Get a new Industrial Magnet from CMT
Since 1999, CMT has been serving the needs of steel mills, scrap yards, and other industrial companies through industrial magnet sales and repair. We offer lifting magnet sales internationally for use in moving ingots, reclaiming scrap, loading furnaces, and so on. Read more about our design and manufacturing process, or browse our selection of new and remanufactured scrap handling magnets below.
Call us at 888-268-4623 and ask for Chip to get started, or email us!
New Industrial Magnets for Sale
These are new industrial magnets designed and manufactured by CMT. Click on the links below to view additional details on each magnet.
Remanufactured Scrap Handling Magnets for Sale
We have a good selection of remanufactured industrial magnets that are looking for a new home! These magnets are in-stock, ready to ship and include a one year warranty on materials and workmanship. Click on the links below to view additional details on each magnet. 
Leaders in Lifting Magnet Design & Manufacturing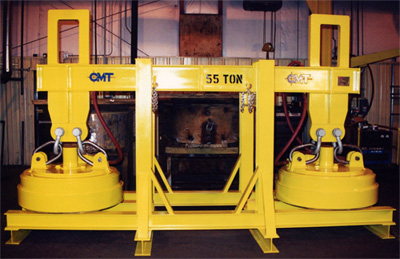 If you're looking to design and manufacture an industrial magnet for your facility, CMT is a top choice in the industry. From large rectangular lifting magnets to scrap magnets and more, we have the versatile equipment to complete the job accurately and efficiently.
All of our industrial magnets are thoroughly baked, purged and epoxy potted in a 99.8% moisture-free environment. We guarantee and monitor this through our specialized vacuum pressure impregnation process. Through the use of heat, vacuum, and pressure, all magnets are hermetically sealed with a proprietary Class H epoxy resin. This seals the assembly and provides resilient support and a void-free heat conduction bridge to the case.
We conduct a full operational test on every magnet we manufacture. Tests performed include: step-surge, impedance, resistance, thermal turn differential and high potential ground. Our attractive force analyzer is capable of measuring the theoretical lift of a magnet in cold or hot operating ranges up to 900,000 pounds. Lifting magnets are also automatically cycle tested at their rated duty cycles to assure maximum performance in the field. Results from these are provided in a computerized report, which is a valuable tool in assessing future performance.
For a detailed peek into our Lifting Magnet Division and snapshots of the additional equipment we utilize, check out our Facebook page.