Industrial Electric Motor and Generator Rewinding & Repair
When it comes to industrial electric motors and generators, it is important to make an informed decision on whether or not to repair, rewind, or replace. The choice can mean the difference on production uptime, energy consumption, and total cost of ownership, which ultimately affects your company's bottom line. At CMT, we are able to analyze your motor or generator and offer solutions as needed.
City Machine Technologies has been focused on precision rewinding of industrial motors and generators for 30 years. Throughout that time, we have strategically invested in our facility equipment and knowledgeable team of technicians to service apparatus small and large. We also provide all ancillary services in-house. Customers who choose CMT as their electric motor repair shop recognize this competitive advantage and appreciate our commitment to first-class service in a one-stop-shop environment.
Our Core Iron Reclamation Process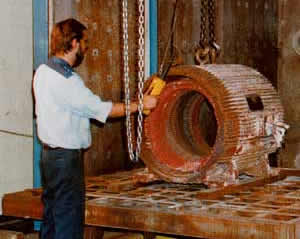 When a stator or rotor requires a rewind, we make every effort to preserve the mechanical and metallurgical integrity of the core iron. We also work to remove the old conductor in an efficient and economic manner. We have three temperature-controlled ovens equipped with chart recorders and sophisticated controls that limit the core to no higher than 700 degrees Fahrenheit to ensure proper reclamation.
We conduct core loss inspections on all laminations. This process is done using a computerized core loss tester that excites the cores to predetermined parameters for the size and type of iron. Detailed thermographic inspection of the iron reveals the hot spots, and an infrared picture is taken for documentation. In many cases, a core iron can be repaired by a "scramble restack." However, in situations where a new core iron is needed, we use the latest in laser cut or precision punched C-5 or C-7 lamination material.
The Difference in Stator Rewinding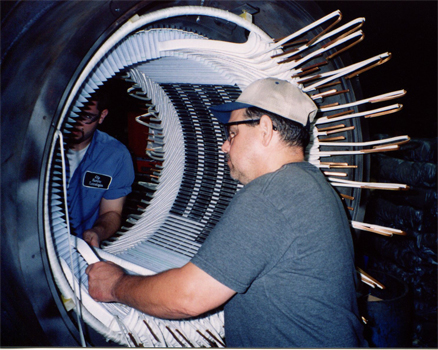 At CMT, we take a unique approach to stator rewinding. We employ the latest in CNC and auto-programmable coil manufacturing machines. The units are capable of both AC and DC coils. We also regularly stock over 15,000 pounds of conductor. Our exclusive steel surge rings for all form coil motors provide a strong and rigid assembly. At CMT, we custom make these rings, when necessary. Other motor repair shops favor cheaper fiberglass rope and discard the originals, resulting in an inferior end product.
We Offer Armature and Commutator Rebuilding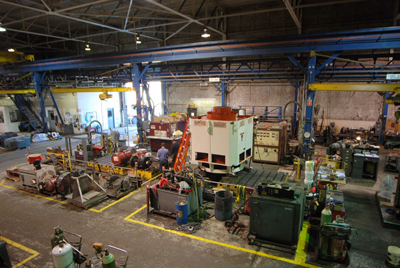 Armatures and rotors receive the same care as their stationary cousins. Armatures are removed, rewound with new commutators as needed, and TIG welded. The assembly is then impregnated, cured, balanced, and reassembled for installation.
Superior Assembly and Testing
Every industrial electric motor and generator repaired and rewound by our skilled technicians is thoroughly tested as the assembly process takes place. Once all of the components have been inspected and reassembled, your apparatus is then tested fully to make certain it is completely operational and functioning as designed. Our exceptional team of technicians will bring any brand motor or generator back to – and beyond – OEM specifications.