City Machine Technologies offers 24/7 service for your most urgent repair needs. Day or night, every emergency service call is accepted by a live person eager to assist you at 330-747-2639. Our on-site repair vehicles are regularly maintained, inspected and ready to go on a moment's notice. We serve customers within a 200-mile radius of our corporate offices located in Youngstown, Ohio.
Why Choose CMT for Your Industrial Field Service Needs?
The success of our industrial Field Services Division lies primarily in our investment in the right people and equipment, available to serve you at the precise time it is needed. Our 4 fully-equipped service vans bring the needed tools and expertise of our in-house shop to your on-site location. Each truck contains hardware, safety equipment, and additional tools needed to address your specific industrial and commercial requirements.
We provide a variety of on-site repair services including, but not limited to:
emergency and outage support
turnkey installation services
laser alignment
dynamic balancing
complete in-place motor overhauls
vibrational signature analysis
diagnostic testing and evaluation
field machining
factory start-up assistance / millwright services
heavy machinery removal
While we are capable of handling many issues on-site, we often assist customers with electric motor repair and generator repair. Our engineers and repair technicians have extensive experience with electric AC & DC motor and generator repair.
Fully-Equipped, Ready to Serve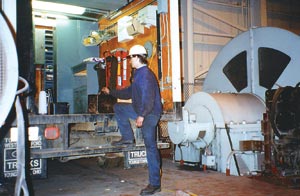 One of our tech vans is primarily used for laser alignment and dynamic balancing. This vehicle is equipped with various communication devices to promote continuous flow of information from the unit to our main shop. This allows our on-site technicians to receive enhanced support from our in-house facility.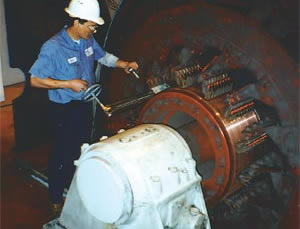 Our on-site field service technicians are equipped to handle commutator or slip ring turning, journal repair, and complete in-place motor overhauls. In the picture to the right, a 24-inch dovetail compound is used to turn and grind a 5,000 kilowatt tandem generator armature.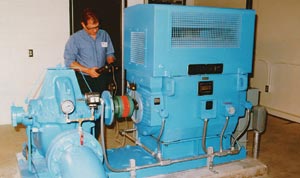 From the smallest pump assembly to the largest steel mill drive, we have the experience, equipment and reputation to handle the job. We utilize state-of-the-art lasers and optical plane transits for repeatable and reportable accuracy. All alignments include a hard copy printout and certificate for your records.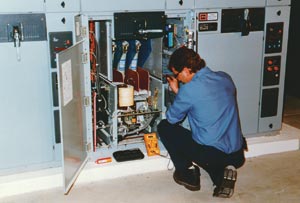 An integral part of our field services is a well-trained staff of electrical technicians, knowledgeable on all aspects of AC and DC motor and process control through 15,000 volts. Whether it is crane control, direct current drives, constant potential panel boards or sophisticated electronic systems, we have the abilities and resources to solve your problems.