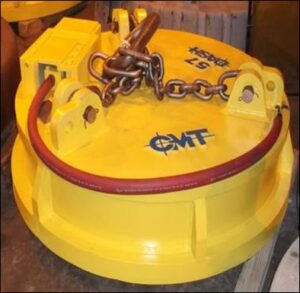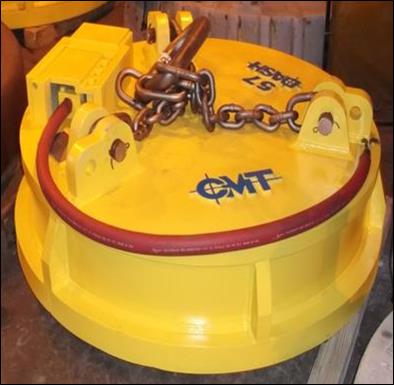 City Machine Technologies, Inc. brings its own unique line of newly designed scrap handling magnets to market. These lifting magnets provide customers with larger pole shoes designed for longer life, heavy-duty terminal boxes built to withstand severe punishment and improved lead connection protection. The magnet cases are designed as reusable items. Also, the bottom plates are easily removable (not integrated into the case assembly). This offers the potential of reusing and straightening if found to be deformed. The process can be done without machining it out of a case assembly and rewelding the assembly back together.
City Machine Technologies, Inc. currently manufactures and sells 47", 57" and 67" DASH (deep aluminum scrap handler) lift magnets.
CMT also manufactures and sells a 58" DCBH (deep copper ball handler). This lift magnet is copper wound. It exhibits more lift and runs cooler than similar units on the market. A cooler running lift magnet retains more lift than a hotter magnet, so more material will be processed in comparable time frames. Cooler also means less stress on the internal workings and longer magnet life.