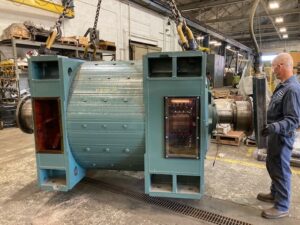 Yes, AC/DC is a band, but AC/DC also refers to motors.
AC motors are found in power plants, chemical plants, municipalities, rubber, mining and cracker plants.
DC motors are found in steel mill, rail, mining, plastic and shipboard applications.
CMT can repair and refurbish AC and DC motors – anything from periodic bearing maintenance to major core repairs, rewinding, frame fabricating, Babbitt bearings and new shafts.
CMT remanufactures all motors to original specifications. All mechanical, electrical and component aspects are inspected and verified.