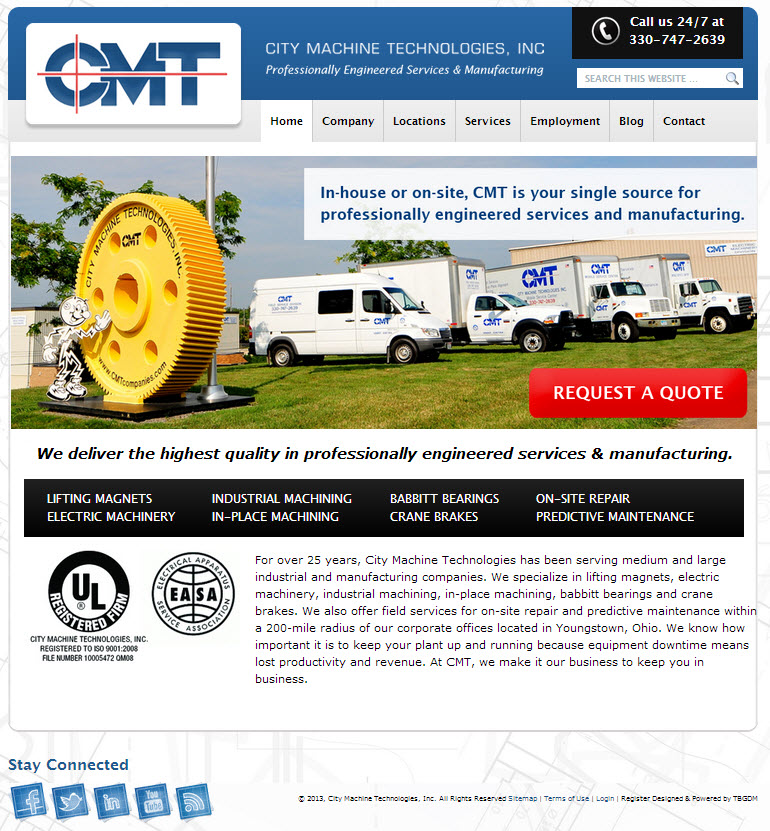 We are very excited to announce the launch of our new website. As an industrial machine shop with a wide range of professionally engineered services and manufacturing offerings, it's important for us to get the word out about everything we do. Our new website, blog, and accounts on Facebook, Twitter, LinkedIn, and YouTube, will help us better communicate with our customers and potential customers. It will also allow us to post up-to-date information on industry news, cost-saving technologies, and much more.
You will find everything from the old website on the new website, along with a lot more information about who we are as a family-owned and operated industrial machine shop. There is a unique page for each one of our eight service offerings. These include: lifting magnets, industrial machining, babbitt bearings, on-site repair, electric machinery, in-place machining, crane brakes, and predictive maintenance. You can use the site to contact us to request a quote on your project, or get our contact details to reach us by phone. Our locations page includes a map and directions to each one of our three buildings in downtown Youngstown, Ohio. If you are seeking employment in motor winding, field services, technical support, machining, welding or assembly, we also have an online job application. The best part of the new site is that it features a responsive design. This will allow you to access our website on a tablet or mobile device and view all of the content you would on a desktop in a user-friendly format.
We are looking forward to leveraging our new blog to provide educational and informative pieces about our industry. Occasionally, we will also feature unique projects that have come through our shop and other exciting things happening at CMT. The blog will allow us to have an open dialogue with customers and potential customers through the comments section and we hope you will take the time to leave some. We'd love to hear from you!
To stay connected with us, we encourage you to follow us on any or all of the following: Facebook, Twitter, LinkedIn, and YouTube. You may also subscribe to our RSS feed to receive alerts when a new blog is posted. We have already updated the Facebook page with lots of great pictures from our shop, and historical events from over the years.
If you've already had the chance to check out our site, tell us what you think about it! Leave us a comment below. If not, we hope you stick around take a peak while you're here!