The power industry is all about reliability and knowing the exact health of your equipment is key to keeping it running as designed. PdMA Testing assures that anomalies are corrected on a scheduled outage – not a "fire drill" outage in the middle of a holiday weekend! At CMT, we offer state-of-the-art tracking and analysis of mechanical, electrical, thermographic, vibrational and lubrication systems on all your rotating equipment. We use PdMA testing equipment. PdMA is an industry leader in the field of electrical preventative maintenance (PdM) and condition monitoring.
Electrical Analysis
CMT offers computer-based online and offline analysis of winding and feeder conduits, which measure and record resistance, capacitance, impedance, currents, voltage and rotational relationship of the rotors and armature circuits with respect to its fields.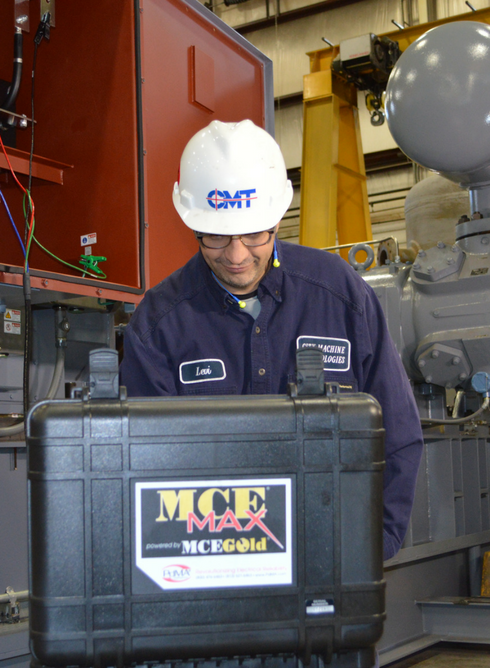 Mechanical Analysis
During mechanical analysis, a through visual examination of Babbitt bearings, couplings, air gas of motor and related power transmission is conducted. This may involve some disassembly or cleaning of the units on-site during the process. A laser alignment scan may also be performed to assure no movement has occurred between the prime move and driven loads.
Thermographic Analysis
A thermographic analysis includes a thermographic scan of electrical switch gear, wiring, mechanical frictional areas and the machine in general looking for abnormal temperature differences while the machine is in operation.
Vibrational Analysis
CMT offers a detailed analysis and record of three-plane vibrational velocity. Spike energy and displacement can be indicative of impending anti-friction on sleeve bearing failure or mechanical misalignment. This testing is done during normal operation.
Lubrication Tribology
This analysis includes the collection and analysis of lubrication oils and greases to establish the quality and contamination levels present in the lubrication system. Samples usually taken off line but pitot tube test points can be installed for readings "on the fly."
All of these disciplines usually begin with a baseline analysis done when the units are first put into service or immediately after a major repair. If this is done after the units have been in service, regular inspections will establish a trend, allowing future maintenance to be easily recommended and planned.
For more information, contact us today, or request a quote!