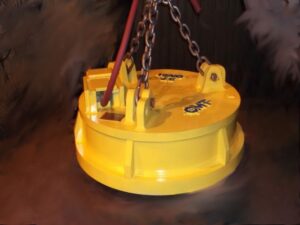 Size:    57"/ 1450 mm
Model:    DASH
Coil type:   Aluminum
Field:    Deep
Weight:   4700 lbs/2140 kg
Voltage:   230 DC
Cold amperage:  60.5
Cold ohms:   3.8
Kilowatts:   13.9
Duty cycle:   75%
Average All Day Lifting Capacities
#1 Hot Melt         3200 lbs/1454 kg
#2 Hot Melt          2050 lbs/ 930 kg
Steel Turnings          1000 lbs/ 454 kg
Plate Punchings       3900 lbs/ 1775 kg
 
Standard Features: Scrap Handler Magnet
-Standard grade 80 magnet chain
-Class H coil insulation with ample sized conductor for a cooler operating coil
-Case construction: fabricated A-36 steel with large armored terminal box, integral drag links and the largest pole shoes in its class
-One year warranty on materials and workmanship
-Delivery: stock subject to prior sale, call or email for current status
-Weights, measures and specifications may vary slightly due to standard commercial manufacturing tolerances of raw materials.
-Lifting capacities stated are based on optimum operating conditions. Variations including type of steel, rough or   uneven surfaces, dirt and debris, temperature of material, magnet and surrounding atmosphere, surface area the magnet covers, and elements of the magnet system, may cause capacities to be reduced.
 For more information, visit our lifting magnet page.