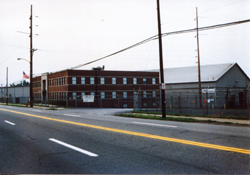 In this third blog, we will take a deeper look into City Machine Technologies, Inc.'s Electric Machinery Division.
CMT's Electric Machinery Division is located at 825 MLK Boulevard in Youngstown, Ohio. The buildings have 50,000-square-feet with cranes through 35 tons, in addition to 16,000-square-feet of engineering and technical labs.
Providing customers with the latest advances in apparatus rebuilding and testing has been the highest priority of our Electric Machinery Division. Since 1985, CMT has carried the distinction of being an Underwriters Laboratories certified manufacturing facility. This benefits all customers by having a known entity supervising the annual certification of all electrical, mechanical test and measuring instruments. It also allows us to re-nameplate all motors and generators manufactured under the Underwriters Laboratories certification process. At CMT, all aspects of electrical and mechanical components are serviced with the utmost care and precision.
CMT's Electric Machinery Division also does:
• Industrial motor rewinding through 10,000 horsepower, 5,000 volts
• Class H Polyester Resin or Epoxy VPI System with capacitance monitoring
• Dynamometer load testing through 1,000 horsepower
• CNC coil making equipment – field, brake and random
• Computerized electrical diagnostics and surge testing through 70KV
• Complete AC and DC electrical capabilities including traction motors
• Dynamic balancing through 20 tons in shop or in place
• Crane brake and take up reel manufacturing and services
• Wire arc metallizing and selective nickel chrome plating processes
• Centrifugally cast Babbitt bearing manufacturing and rebuilding
• Computerized vibrational analysis and predictive maintenance programs
• Laser and optic alignment equipment and laser CMM machine
• Ultrasonic and thermographic surveys with digital analysis and reporting
• Cryogenic cleaning systems for in shop or in place