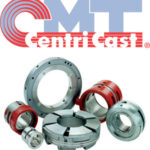 Babbitt bearings are integral to all heavy industrial machinery. Babbitt bearings are sleeve bearings made of certain types of alloys, which are melted down and cast to produce the bearing surface. Babbitt bearings are used for high speed, rotating equipment, such as compressors, turbines, electric motors, large power generators (like those in power plants).
The Babbitt bearing was invented in 1839 by an American named Issac Babbitt. The first types of Babbitt plain bearings were composed of tin, antimony and copper. This composition is still pretty similar today. Babbitt is soft but strong enough to resist the bearing load.
City Machine Technologies, Inc. has specialized in this industry and perform all services in-house under the trade name CMT CentriCast. We have perfected the centrifugal casting of all sizes of Babbitt bearings and are also ready to assist you with our static cast, metalizing or TIG welding processes.