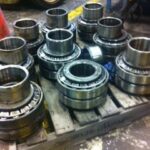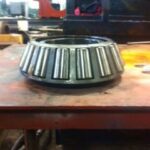 Anything mechanical that spins has a bearing in it. The two most common types of bearings are ball bearings and roller bearings. Bearings work by rolling between two surfaces to reduce friction. Ball and roller bearings help shafts and parts rotate in motors and machinery. Ball bearings are most commonly used in household appliances, such as washing machines and dishwashers. Roller bearings are shaped like cylinders and are used in heavy machinery and industrial applications.
How to tell if a ball or roller bearings is bad:
1. Listen for a noise while machine is running.
2. Turn off power to equipment, remove the components in order to gain access to the bearing.
3. Inspect each ball or roller bearing visually for chipping, pitting and other wear and tear.
4. Check roller housing for cracks and bends.
5. Manually rotate bearing once it's out of machinery and listen for a noise.
6. Inspect the bearing race, which is the outside steel casing where the bearing rotates as the machinery operates, for cracks, wear and tear and other damage.
7. Call CMT for all your industrial repair needs.