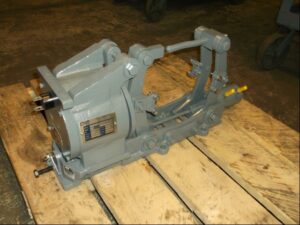 Before the invention of cranes, how were tourist attractions such as Stonehenge and the Pyramids of Giza created? In early years, stones were dragged with sledges, ropes, ramps and levers. The pulley was invented by ancient Mesopotamians for hoisting water. The Romans built temples with winches. By the end of the 17th Century, tread wheel cranes were in use at harbors and cathedral construction sites. These inventions and others helped manufacture cranes as we know today. In 1834, the first cast iron crane was constructed AND wire rope was invented. By 1851, hand powered cranes ran on steam power, which was the first step to a hydraulic crane.
Today, we use overhead cranes in the steel and manufacturing industry, and here at CMT, we can repair your crane brakes.
Crane brakes play an big role in the safe operation of industrial equipment. When moving material with overhead cranes, it is essential the brakes are in working order, just like the brakes in your car when you need to make a sudden stop. CMT can repair industrial crane brakes and get your plant's crane back up and running in no time.
Magnet take-up reels (commonly found on crane assemblies) receive the same care and attention as crane brakes.