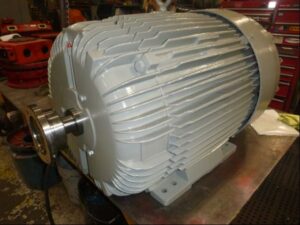 CMT recently responded to a customer's emergency breakdown that brought a steel mill's production line to a halt.
A 75 horsepower AC motor failed during operation due to severe shaft damage. This motor was a special type, and no replacement motor was quickly available.
CMT picked up the motor and performed a full rebuild consisting of machining and installing a new shaft, dynamically balancing the rotor and reconditioning the stator. Following reassembly and testing, the motor was then delivered to our customer for installation. This motor was made like new and ready for service in less than 24 hours.
Downtime equals loss of revenue for a manufacturing facility. This production line resumed operation sooner than expected.