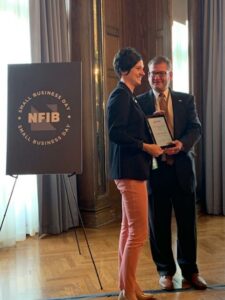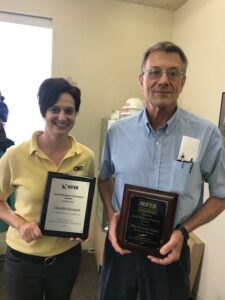 NFIB, Ohio's leading small business association, named Claudia Kovach, Vice President of City Machine Technologies, Inc. (CMT), the recipient of the 2019 Small Business Champion award.
Kovach is the current chair of the NFIB Youngstown Area Action Council and sits on the NFIB statewide Leadership Council in Ohio. She has attended many of the NFIB Small Business Days at the Capitol in Columbus as well as lobbying days for NFIB in Washington, DC. Claudia is also a media spokesperson for NFIB. In 2019 she initiated National Skilled Trades Day, which will be recognized on the first Wednesday in May every year.
"Claudia Kovach absolutely has all the qualities of a Small Business Champion. We are proud to recognize her as NFIB's in 2019 for Ohio. She volunteers her time to the small business community, not just at the local and state levels, but also nationally by creating National Skilled Trades Day this year. Claudia is a great example to her fellow small business owners on how engaging with elected officials at both the state and federal level can make a difference. Her father and mother, Mike and Joanie, received the honor in 2006, and it is nice to see the civic dedication continued by the next generation," said Roger Geiger, Vice President/Executive Director of NFIB in Ohio.
Each year, NFIB names a Small Business Champion for Ohio from among its membership of 22,000 Ohio small businesses. This individual not only gives of his/her time and resources to promote small-business causes through involvement in NFIB activities but also demonstrates a spirit of service toward the community and a commitment to advancing the concept of free enterprise.
"It is an honor and a privilege to follow in my parents' footsteps as an NFIB Small Business Champion. My brother and I work hard to carry on the good repair and customer service CMT is known for in our industry. CMT is celebrating its 34th year, and we are hoping to celebrate another 34 years-plus in business. When you support a small business, you support the entire community," said Kovach.
Claudia has been with her family's business since 2006. It is a true family business with her father and brother, both heavily involved in day-to-day operations. The company's repair specialties extend beyond traditional industrial machine shop services to include lifting magnets, electric machinery, industrial machining, in-place machining, babbitt bearings, crane brakes, on-site repair, and predictive maintenance. More than 50% of CMT's employees have been with the business for ten years or longer. The business is also heavily involved in supporting their local community