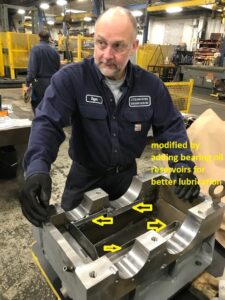 Many gearbox designs are splash lubricated and, because of this, some internal components that help rotational shaft speeds do not receive enough amounts of lubrication. Design, fabrication and installation of oil reservoirs containing lubricant ensures bearings will be properly lubricated while the gearbox is functioning.
CMT can do all industrial gearbox repairs including gear installation, backlash and setting all tolerances on both splash and pressure lubricated designs.
Each gearbox is secured to our test stand and motor driven at rated speed. Numerous data points are identified and monitored for vibration, noise and temperature.