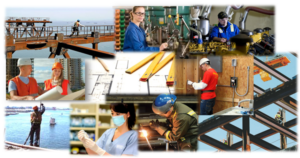 Get your calendars out and start preparing. National Skilled Trades Day is Wednesday, May 5, 2021.
Again, this year will be a virtual celebration.
Say thank you to those who work in the skilled trades. We've learned that skilled trades are essential. Thank those truck drivers who bring you food and packages. Thank your hairdresser. Remember when the salons were closed and how hard it was to cut our own hair?
The weather is getting better. Like your air conditioning in the summer? Thank an HVAC tech.
Read up on National Skilled Trades Day and celebrate. Know someone graduating this year? Let them know a career in the trades will give them a great future and a nice life.