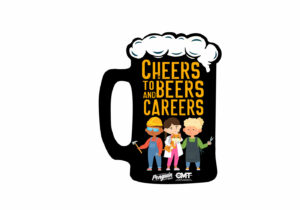 Wise words of wisdom by the late Joanie Kovach: There's a job for everyone. And, there really is. If you have an interest, there's a job in that field. And, the earlier you learn about careers, the better. That's why in 2019, CMT founded National Skilled Trades Day. It is celebrated the first Wednesday in May. This year, the celebration is Wednesday, May 3, 2023. CMT is teaming up with Penguin City for "Cheers to Beers and Careers."
Wednesday, May 3, 2023 from 4 to 7 p.m. at Penguin City (460 E Federal Street, Youngstown)
Penguin City is brewing up some delicious beer for the celebration and will offer $1 off a beer when you show up in your skilled trades uniform.
There will be a special on Boilermakers.
Paige's Deli food truck will be outside the brewery selling food.
Penguin City will also feature a kid-friendly beverage!
Bring your kids! When they dress up as their favorite skilled trades worker (or in a career outfit of their choice), they can Trick-or-Treat around the brewery. There will even be a skilled trades costume contest! It's halfway to Halloween and what better way to practice than dressing up as a skilled trades worker!
Businesses: We need you! Interested in showcasing your company/career opportunities to kids and adults by passing out candy? Email Claudia at claudia@cmtcompanies.com to sign up for a table. All businesses are welcome.