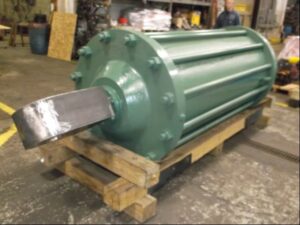 City Machine Technologies, Inc. services a wide variety of equipment from all types of industrial applications.
This large hydraulic cylinder is used in a hydroelectric power plant. A hydroelectric plant produces electricity by using the flow of water to drive a turbine generator.
The cylinder is used to control water flow gates. The flow gates regulate the amount of water (at this particular plant up to four million gallons at a time) that drive the hydro generator.
CMT completely remanufactured this cylinder by repairing the actuator shaft, making new bushings and connectors and welding and machining the cylinder frame. The unit was assembled to exact tolerances with all new hardware, then tested for accurate operation.