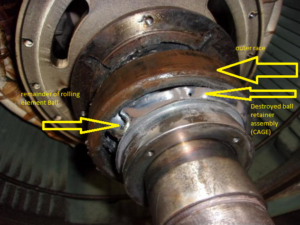 Mechanical failures account for the most outages in industrial rotating machinery with a high majority being a bearing failure.
Bearing failure symptoms could include: an audible noise, heat, smell, smoke or vibration.
Lubrication is essential to rotating equipment longevity. There is a science to intervals, composition of lubricant and amount of lubricant installed.
CMT can help prevent catastrophic bearing failures. Thermal analysis, vibration analysis and lubrication education for customers is available.